Posts Tagged xe700t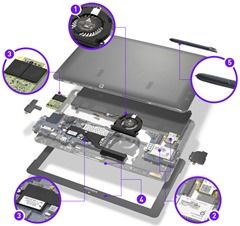 Competitor to the Microsoft Surface Pro (and 4 other Core-based dockables,) the Samsung ATIV Smart PC Pro / 700T / XE700 hasn't exactly got the market to itself but given Samsung's history of making tablets we think they have a good chance of being one of the most popular brands in the category and when Samsung posts details about what's going inside the SmartPC Pro you get the impression they have some confidence too.
Check out some of the key features inside the Samsung ATIV SmartPC Pro below and read-on for information on the first owner-feedback.
Ultrabooks are all about getting full computing power in a lightweight, stylish and long-battery life solution.  Core i3, i5 and i7 'ultra low voltage' platforms are the core of these systems but there are a few non-ultrabook solutions that use this platform and still provide a thin and light solution. One of them is a true alternative. It's a tablet/docking station combo that I've written about before. The Samsung Series 7 XE700 and today the prices are looking a lot better than they did a month ago.